To open up the voice to all its possibilities
To involve the whole body in singing
To combine technical mastery and creative freedom
CAREER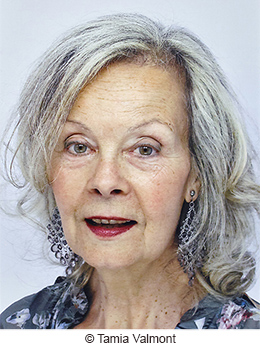 Tamia Valmont has taught singing since 1973 in several countries, including France, Italy, Cameroon, Switzerland, the US and Finland.
She has taught at universities (Paris VIII and New York University) and held workshops for professional stage actors and singers, usually within the framework of adult education programs, since 1977.

After having taught singing for forty years, however, Tamia has to stop teaching to work on re-releasing her last album and preparing the next one. She'll begin teaching again after the next album comes out in early 2019.

Tamia
APPROACH
When singing, as opposed to playing an instrument, nothing stands between you and the audience. So you feel exposed. And this is precisely what gives the voice its beauty and force: its direct connection to emotion.
What is vocal technique?
All vocal techniques require a core curriculum of exercises in breathing and what's known as "placement", i.e. projecting the voice without straining it. They all involve finding points of support in the body and effectively coordinating the various areas of the vocal instrument.
Furthermore, the voice has to be used in certain specific ways to perform different kinds of music appropriately. You can't sing gospel the same way as Mozart. Different specific facets of the voice need to be developed for each. One has to find and refine the vocal color or colors, the timbres, that suit each style. These are domains I've developed in my teaching.
Having good technique means find the right posture, whatever it is you're singing, in other words coordinating your body just right to produce the desired sound.
The voice is a musical instrument, so a good singer is a good musician. Singing is music. And music theory is more accessible when learned through the practice of singing a song, a melody, than in the abstract. Many learners feel excluded from a world they feel is inaccessible, sealed off, with a coded language of its own.
The object of musical technique is to imbue each phrase with meaning. A melody, like a text, is made up of a succession of phrases. Each phrase needs to be recited, articulated, in a way that will render it intelligible and bring it to life. The movement with which we invest it gives it its expressiveness, which is the heart and soul of music.
One doesn't have to confine oneself to performing in only one musical style, so I give workshops on singing different kinds of music.
Singing seems to be something that lies buried in each and every one of us. When it surfaces through improvisation, we are struck by its emotional power. An outpouring of feeling is awakened, a surge of spontaneity that can also be used for purposes of musical interpretation. Improvisation is a useful tool for learning to dare, to overcome fear, to find intimacy with one's own voice.
To be sure, training singers means honing their skills. But if we turn them into "well-schooled" machines, we lose sight of the very essence of singing: its ability, more than any other instrument, to convey an emotion, to stir hearts and minds.
Excerpts from the article written by Tamia Valmont, in MUSIQUES Apprendre / Pratiquer (Cité de la Musique: Paris, 2002).